We are a different web design agency in that we understand how to work with Google to increase traffic. We test and experiment regularly to find the right ways to increase traffic to the websites we build. We use our own websites for that experimentation, and then we leverage what we learn to benefit our clients. Today, we're focused on Indexed pages. More specifically, we're discussing how to determine the number of pages indexed by Google for a given website, and some of the strategies intended to increase that number.
What are Indexed Pages
These are the pages of a website that will be presented in a search engines results. Websites will never have all of their pages indexed, and the percentages of pages indexed will vary by the category, how much unique content, social presence, backlinks, etc. If a page does not appear in Google's index then a user searching Google will not find it in the search results.
More can be Better
More pages indexed with Google will translate into more opportunities for traffic. The more opportunities to reach someone the better, so long as you have useful content that solves a problem or answers a question for a user.
Divide Content Up can Improve User Experience
As web designers, web developers, and webmasters we all need to be mindful of building pages and content that answer a question, that load quickly, and that minimize clutter. A page with everything a user needs to know about a given project could easily become overwhelming for the user so often it makes sense to divide content up onto several pages of a website.
Pros of Dividing Content onto Several Pages
Pages with less data will render faster.
Users will find the content specific to the page faster.
You can increase ad impressions as most advertisers allow a maximum of 3 ads per page.
You can focus your SEO and content on specific terms.
Cons of Dividing Content onto Several Pages
If pages are viewed as overlapping or duplicative then Google/Bing will penalize sites.
More pages require more resources such as bandwidth, storage, servers, etc.
Google Webmaster Tools
Google Webmaster Tools (aka Google Search Console) tells all users the number of pages submitted in a sitemap, and the number of pages indexed under the Crawl menu, in the Sitemaps section, like this: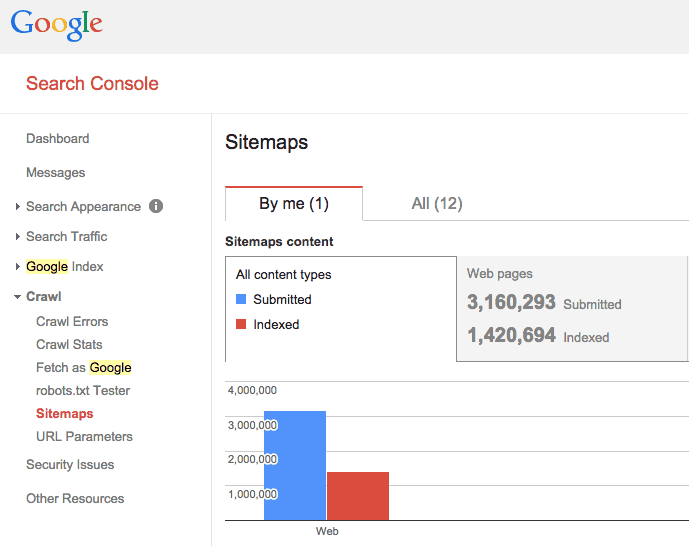 Take Away
If you have pages with lots of data, dividing them up can have many benefits. Stay tuned for a discussion of a recent experiment we ran on our HookandBullet.com property.