Unless you avoid the internet and TV at all costs, you've seen ads for a company called Squarespace. Squarespace is a website builder that has been heavily advertising on TV, on YouTube, on websites, and Google searches. They are operating in the very competitive space of providing a simple application whereby users with no development knowledge can setup a simple website that has a blog, a forum, some basic retail pages, and the likes. Basically, this is a fast way to get some sort of a website on the internet.
Squarespace Pricing Plans
There was time when Squarespace was quite inexpensive. That is no longer the case. On the publish date for this article, Squarespace's pricing plans ranged from $96 per year to $288 per year.  The average website has a 3 year life before significant changes are made. Considering the cost of the website over these 3 years with Squarespace (business package) would be $864, for a website that has restricted functionality and a proprietary platform.
Squarespace Popularity
While some other brands (like Ning) have seen declining traffic, Squarespace is seeing results from their massive advertising campaigns and strategic partnerships with the Rightside's, GoDaddy's, and  other domain registrars of the world. That's resulted in some impressive growth, as evidenced by the Alexa chart shown below. That growth bodes well for the brand, but there's an uphill battle for Squarespace as those brands that have offerd basic website creation prior to them have run out of cash for advertising, and when that's happened, the brands have slid into decline. That same risk exists here where WordPress reigns supreme.
The biggest issue with this is that as platforms fall our of popularity, fewer and fewer 3rd party add-ons, extensions, plugins, and apps are made available. Take the Apple store as an example of this – the apple store has far more apps than what you can find in the Google Play store for Android phones. That may well change, but that needs to be considered when determining what cell phone to purchase. The same is true with website development.
Squarespace Templates (presentation options)
Despite Squarespace's growth, it still pales in comparison to  Wordpress with regard to the number of options it has on offer for templates, best described as presentation foundations for a website. WordPress boasts over 10,000 very detailed and elaborate theme options. Squarespace does not offer up an exact count but I counted the template options I saw and was left with what appears to be less than 100. Think of themes (WordPress terminology) and templates (Squarespace terminology) as foundations for your website that define the general look and styling. With fewer than 100 options, that means if there were 100,000 websites on the Squarespace system, you can expect approximately 1,000 other sites to be using your same template. The template choices seem limited, as shown in this screenshot taken from Squarespace showing the theme options for Restaurants: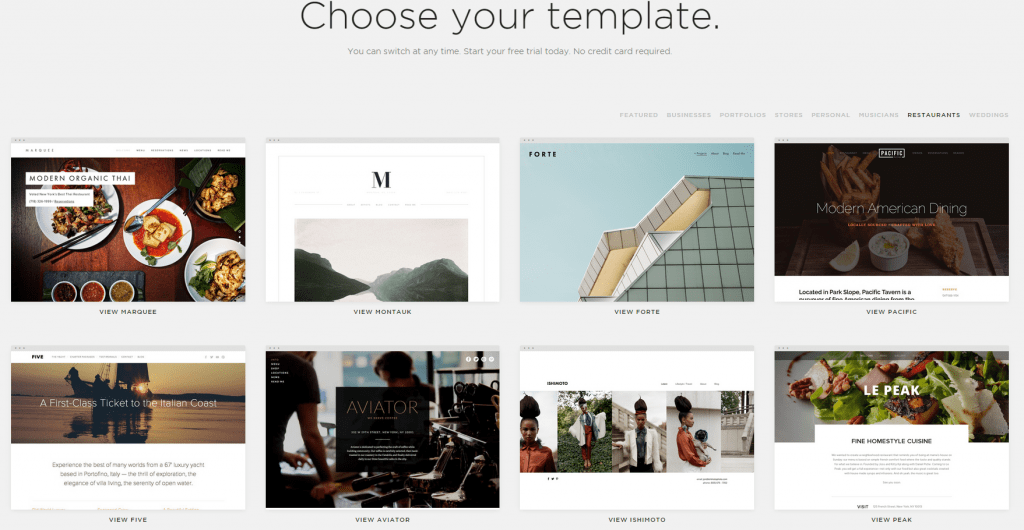 Flexbility to Grow and Leave
So what happens when your business explodes with growth – can the website grow and evolve with ease? If not, can you take your website content, users, subscribers, products, posts, etc. and move to another platform or custom website? Squarespace has some useful features built into the site. Still, it pales in comparison to the breadth of functionality on offer by WordPress, or from a custom developed website where most anything can be done. Therefore, it's not unreasonable to imagine a time when you'll outgrow it's capabilities. This is where the issue of taking YOUR data, your customers, your subscribers, your products, etc. with you to a new system. Squarespace states clearly on their site that some of your data cannot be exported:
And there's the rub . . . these items will NOT export so you cannot move them to another system:
Product Pages
Folders
Event Pages
All but one Blog Post
All but one Blog Page
This means lots and lots of work for you to move from Squarespace once you out grow it's system. That's a major deal!
Summary of Squarespace Review
Simply put, Squarespace is a self-service web builder system designed for the end user without any website development knowledge. If it's a blog you're after, it will suffice but give WordPress a careful look first. If it's a website for your business that you are building, then weigh the limited design/template options, and the difficulty in exporting YOUR data if and when you out grow the Squarespace system against the ease of the initial setup. Also consider that the initial setup still requires a degree of skill and time to complete. If you're searching for a basic website or blog, then Squarespace is a solution you should consider.
Squarespace Advantages
Set up a website with basic features is fast
Squarespace platform has the most basic features covered
Squarespace Disadvantages
Squarespace has limited templates to select from
Creating a professional website will be time consuming
Features are limited to what's available on the platform
Migrating to a new provider as your site grows will be painful
If you have confidence in your business, consider investing in a website with the flexibility to grow. Find a professional web developer who can deliver the website you that will enable your business to thrive, as most often, hiring a website development agency will be more affordable and successful than using a system like Squarespace.