Over the years, the team at Montlake Media has used hundreds of free SEO analysis tools to establish a quick baseline of a websites search engine optimization health. We tend to review the problem areas in detail, and it helps us determine where to focus our research and detailed analysis. The recommendations are often too general to be of any particular value so we tend to scan those. There are many SEO analysis tools available on the market, and the quality of these tools vary greatly. We review and rate them all, highlighting the Best Free SEO Tools available to website owners and admins looking to increase the organic (non-paid) traffic to their websites.
Required Features
Every SEO analysis tool or service must provide these core features:
An easy top use online submission process
Fast results
Classification of the opportunities for improvement and problem areas (urgent, important, etc)
Recommended steps to resolve potential issues
3rd Best Free SEO Tool
SiteAnalyzer.com takes the honors for 3rd best free SEO tool by virtue of completing its analysis so quickly, and then presenting the results in a very intuitive and easily navigable way with effects showing what element on the page they are referring to. This makes it easy for laymen to understand what element is being discussed. One of the drawbacks of the SiteAnalyzer service is that its multi-lingual feature and attempt, while a big win on the surface, is creating conflicts whereby different language is used to describe issues. This is a relatively new issue we have not witnessed before, so we took that into account and still awarded it a high ranking.
2nd Best Free SEO Tool
SEOSiteCheckup.com comes in our 2nd best spot for free SEO analysis tools. It covers all of the required areas, providing a an easy submit process, reasonably fast results, organization of the various benchmarks, and recommendations for changes. The results are easy to comprehend and very well presented. Some of the drawbacks of this service are the over-emphasis on HTML sitemaps which are no longer relevant since XML sitemaps have emerged, a call to reduce the usage of underscores in URLs which is debatable at best, and the overall score is misleadingly low. In our example, eHow scored a modest 62/100 which is low for a site that has experienced this degree of SEO success and momentum.
Best Free SEO Tool
WooRank.com earns our top spot for free SEO tools. The analysis is lightning quick, the most relevant recommendations are presented at the top of the page with anchor links to the section below, the score more accurately reflects a sites SEO performance, and the results are available for download as a PDF or as slides. As for negatives, the sites is highly optimized for subscriptions, so running a report on more than one website is strictly limited to active members on a free trial or subscription.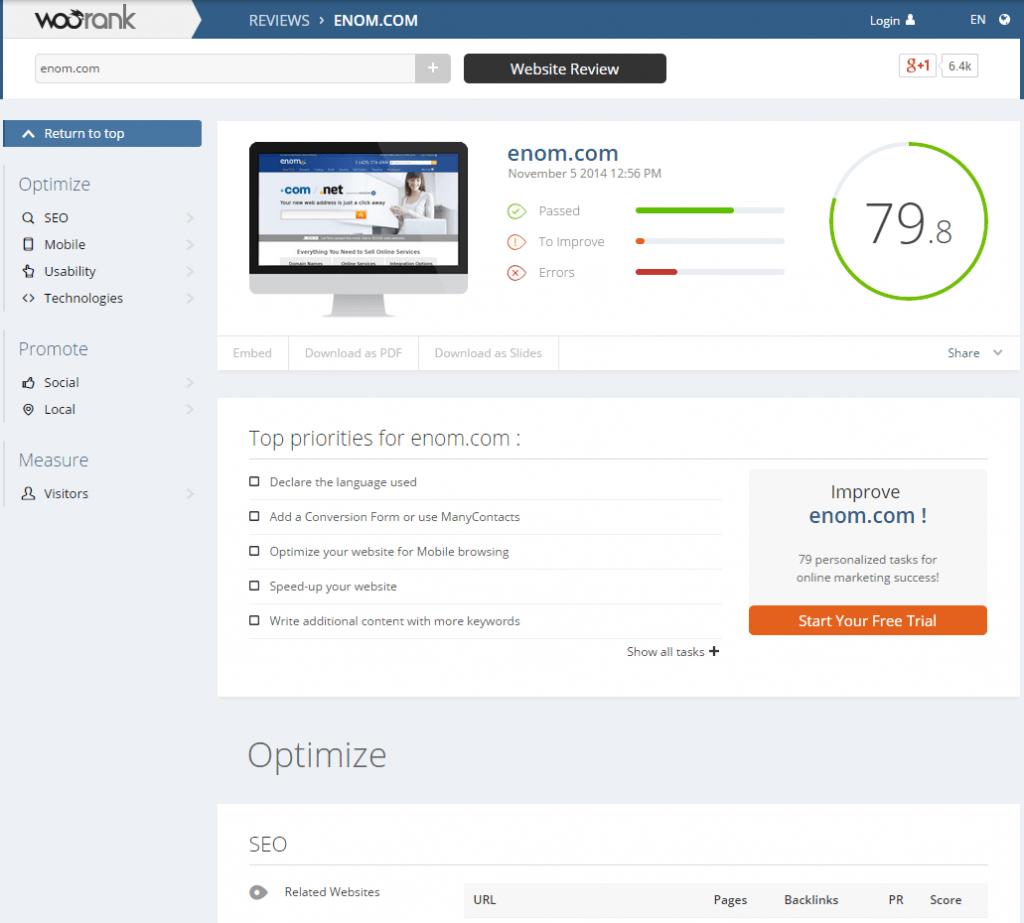 Paid SEO Tools
There are many higher quality paid services such as Moz.com that offer very detailed and thorough analysis. Moz.com plans start at $99/month and run up to $599/month, and include access to their tools. Keep in mind with these tools, the website owner or developer is still left to implement the recommended changes on their own. We'll review the various paid services in a future article.
There's no substitute for experience
SEO is a complicated subject. As a business owner or website admin focused on many things, you could spend a great deal of time on search engine optimization without seeing any improvement. We offer hands-on affordable SEO consulting services that get you where you want to be quickly. For more information, fill out our Request a Quote form.